Bringing together foodservice professionals and more than 80 different food and drink suppliers, join us on Tuesday 19th September at Ipswich Town Football Club for the EAT tradeshow.
---
A brand new event, we're creating a dedicated food and drink showcase for the region, where people from across the foodservice industry can come together, network, sample products and meet the many suppliers that Thomas Ridley Foodservice works with.
This is your opportunity to sample, taste, listen and put your questions to the experts.
EAT, (the East Anglian Trade show) is open to all foodservice businesses and professionals, not just current Thomas Ridley customers and is free to attend. Just register your place so that we know you're coming!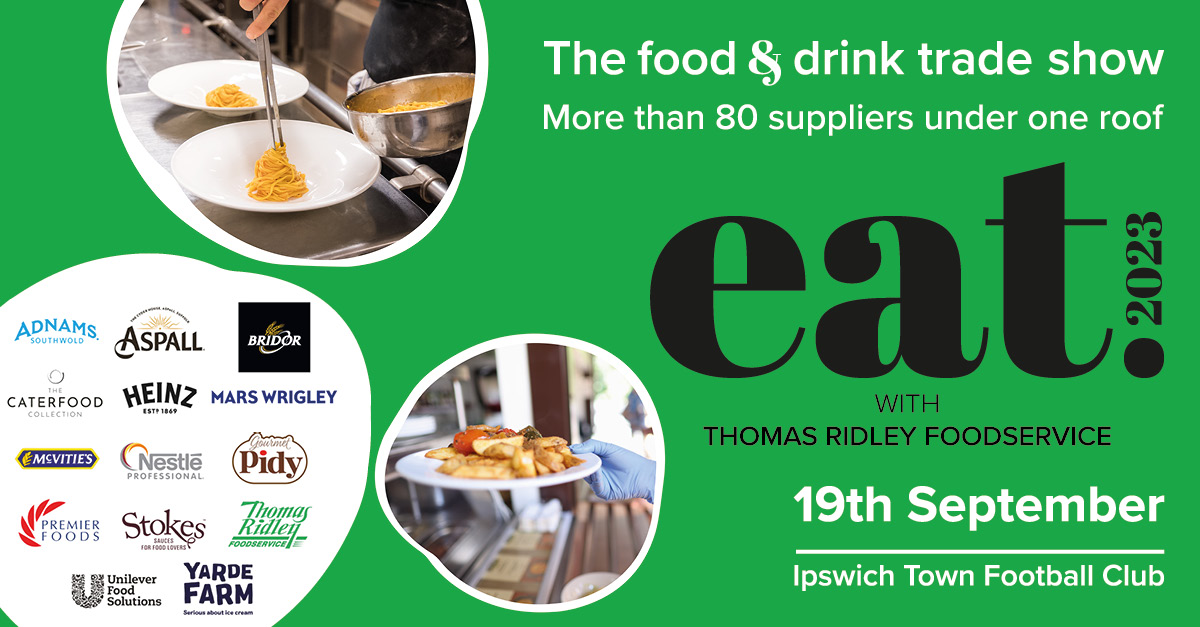 Supported by 13 headline sponsors;
Aspall, Stokes, Adnams, Bridor, Heinz, Nestle Professional (Nescafe and Maggi), Mars Wrigley, Premier Foods (such as Bisto, McDougals and Homepride), Unilever Away From Home, McVities, Pidy, Yarde Farm and the Caterfood Collection.
The EAT trade show will have a fantastic mix of local, independent producers and national brands, all of which work with Thomas Ridley to supply schools, hospitals, care homes, pubs, hotels and cafes with everything that they need for a total foodservice solution.


What can I expect?
Meet with a wide range of suppliers and development chefs who will be on hand to demo their latest products and menu solutions; giving you tailored advice and inspiration to take back to your kitchen.
Network, discover new products and stay up-to-date with the latest industry trends. You can also well take this opportunity to find out about career options within the industry, whether you're just starting out or looking to take your career in a change of direction.

Whether you want to research new products for your menus, network and meet with suppliers or find out more about working with Thomas Ridley, make sure you visit us on Tuesday 19th September between 9am and 5pm at Ipswich Town Footbal Club.

---
Join Thomas Ridley at EAT on Tuesday 19th September

Come together and join a community of passionate and innovative foodservice professionals, with over 80 different food and drink suppliers on hand over three floors at Ipswich Town Football Club.
From household brands, local produce to innovative kitchen equipment, there will be plenty for you to discover and explore while also getting to know more about Thomas Ridley - your leading local foodservice supplier with a long history of providing excellent products and a fantastic service.

Register now to secure your place
---