Sustainability @ Thomas Ridley
It's no secret that every business creates waste, it's what we do with it that sets us apart. At Thomas Ridley, we're proud to operate today in a way that helps to protects tomorrow and are always looking for ways to further reduce our carbon footprint, and that of our customers.
As a large food and drink supplier, including frozen, chilled and ambient products, we're incredibly conscious of our energy and fuel consumption and the need to save energy. That's why we've got 400 solar panels on the roof of our main warehouse, saving up to 40,000 Kwh of energy a year, and every vehicle in our fleet has multi-temperature storage, to condense deliveries and cut down on road miles.
Reducing waste throughout the supply chain is one of the biggest ways that we can have a positive impact and we have two recycling initiatives designed to help our customers reach their sustainability goals. By working collectively, we've already turned 300,000 litres of waste cooking oil into biodiesel and diverted 150 tonnes of cardboard and 24 tonnes of plastic from landfill.
---
Waste Oil Collection
With our partner we have collected over 300,000 litres of cooking oil from our customers, for conversion into Biodiesel.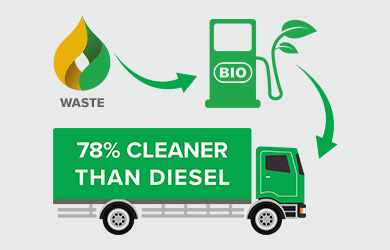 ---
Cardboard Collection
So far, we've helped to recycle 24 tonnes of plastic & 150 tonnes of cardboard, with our customers' cardboard collected and then baled at our HQ in Suffolk.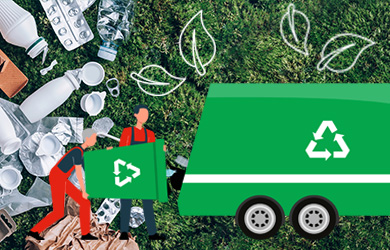 ---
---
Cutting down the food waste
As a foodservice business, we simply hate seeing food waste and know that food waste is responsible for 23% of total UK food system emissions. We believe that tackling food waste is an easy action everyone can take at home and at work to help the planet and reduce personal food bills, and we're proud to say that at Thomas Ridley less than 1% of the food we handle goes in the bin.
We achieve this by offering all short-dated products to our staff in the first instance, often at sizeable discounts, then any unsold products are donated to Still Good Food, our local food bank charity. Anything that the charity is unable to use is then responsibly sent to an anaerobic digester to create biogas.
On average, we recycle around 50 tonnes of waste food each year, which creates enough biogas to power an energy saving lamp for 285 years or two and a half million hours!
---
Doing more to measure and reduce our carbon footprint in the future
But, the impacts of climate change and the need to make more sustainable choices, wherever we can, is more front of mind than ever before and there is still plenty to do.
From using local suppliers, expanding our plant-based ranges and encouraging everyone to be more conscious of waste and recycling, everyone can take action, no matter how big or small, to help the planet. As a business, we're keen to go further and make Thomas Ridley even more sustainable. We are currently working with Save Money Cut Carbon to effectively measure our carbon footprint and realistically move towards becoming a net zero operation. Eagerly awaiting our latest audit results and actions plans, we look forward to being able to share more on our progress in this important area soon!