Following on from the ban on plastic straws, drink stirrers and cotton buds, the next items of single-use disposable plastic to be banned by the government in England from 1st October 2023 are disposable cutlery and all expanded polystyrene (EPS) food-to-go containers, plates and cups.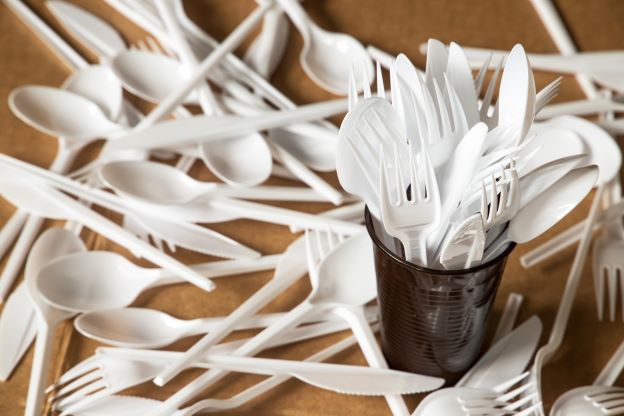 Some operators may be surprised to learn that the new ban applies to all types of single-use plastic cutlery, including compostable and recycled. So, if you haven't already switched to offering compostable wooden or paper disposable cutlery - now is the time to do so!
When it comes to takeaway food containers, single-use plastic items can still be used if the food container is pre-filled or filled at the point of sale, and the ban does not apply to single-use plastic cups. The biggest changes from 1st October will be ruling out all EPS / polystyrene food containers or cups, and any type of plastic disposable cutlery.
For more info on the ban, visit gov.uk for the full guidance.

The good news is, eco-friendly options on the whole are much more widely available and more appealing to eco-conscious consumers, so making a subtle switch for your foodservice business to help cut down on single-use plastic (despite the new rules), shouldn't be too hard.

In line with these changes, we will be adding some new lines soon – so keep checking our range for new possible alternatives.

---
Going forward, what are the best options?
---
Disposable cutlery -
---
Disposable cups -
---
Disposable plates -
There are three great options to single-use plastic plates that we currently sell:

Compostable Bagasse plates - already a very popular option with our customers.
Recyclable paper plates - a sturdy and cost-effective option.
Compostable palm plates - a premium option, these are great for parties and events where you want to provide a premium feel while still using disposable plates.
---
Disposable food containers -
---
To re-cap, here is a table to help you navigate the new rules based on what Thomas Ridley can offer you
Cutlery
Compostable wood

Compostable paper board

Recycla

ble and reusable eco-conscious stainless steel

Reusable stainless steel cutlery
Cups
Compostable paper board with a plant based polylactic liner

Recyclable paper board with plastic liner

Recyclable clear plastic cups/pints
Plates
Compostable bagasse

Recyclable paper plates

Compostable palm
Food Containers
Compostable paper board and plant based polylactic liner

Compostable bagasse

Compostable and recyclable paper board base

Compostable plant based clear plastic

Recyclable paper board with plastic liner

Recyclable clear plastic - if items are pre-filled or filled at the point of sale
---
We hope you've found this blog useful!


Thank you for being a Thomas Ridley Customer.